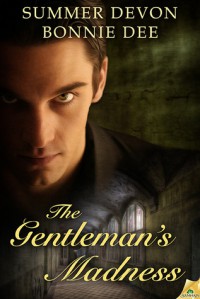 Is that man a vampire? Does that manic gleam in his eyes mean he is about to feed? The blurb didn't indicate there were vampires in this story, so I promptly put the cover picture out of my mind. I do love the title, however, and was thrilled to get the opportunity to read this historical romance set in London in 1887.

John Gilliam is a learned professor. He is also homosexual and damned lucky "buggery" was no longer punishable by death. It was, however, still illegal. John was unfortunate to be caught with another man during a surprise visit by his father and a few friends and willingly submitted to treatment at a mental institution. Because John comes from a wealthy family, his living conditions are not nearly as bad as others. But he still had to endure isolation, humiliation and crude treatments such as hydrotherapy and twirling chairs which were of no help to mentally ill patients. During his incarceration, he meets Sam Tully, a kindly attendant who suffers from the same "perversion" that John does.

What is really scary is these crude and dangerous treatments lasted right up until the 1970's.
http://www.davidmixner.com/2010/07/lgbt-history-the-decade-of-lobotomies-castration-and-institutions.html
I have some mixed feelings about this story. While I loved the slow burn of John's and Sam's relationship, their very different backgrounds, and the authentic historical details, I wish there were more vivid descriptions of the patients and their treatments. I am very interested in the history of mental health and wish that this story spent more time on the important subjects it touched on in a superficial way. Because of Tully, I never really felt that John was in any danger, and that eliminated a lot of tension from the story.

It was still a compelling and leisurely read, and I'm glad both men got their happy ending. While not a perfect story, I enjoyed it sufficiently and plan to try another by these authors.

*Book provided by author in exchange for an honest review.